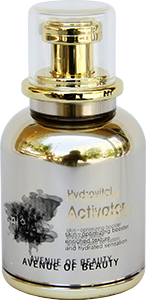 미인 하이드로바이탈 엑티베이터(Hydrovital Activator) 30ml
제품특징 (피부미백+보습+주름개선+수분공급+피부탄력강화)
에너지가 풍부한 엑티베이터로서, 피부에 수분을 최초 공급하여 차후 보습과 영양 성분이 균형있고 매끄럽게 피부에 흡수되도록 최초 피부상태를 정돈해줍니다. 또한 피부온도 36도에 반응하여 문지르지 않아도 자연스럽게 스며들 수 있으며 나노화된 입자가 화장품의 유효성분을 빠르게 흡수되도록 도와줍니다.
핵심원료
아데노신, EGF, 알부틴, 히아루론산, 콜라겐, 알로에베라잎즙, 위치하젤 추출물, 베타글루칸, 카바잎/뿌리/줄기 추출물, 녹차 추출물, 프로폴리스 추출물, 중국목련 추출물, 나한백가지 추출물, 화이트월로우껍질 추출물, 로얄제리 추출물
아데노신(주름) / EGF(재생) / 알부틴(미백개선) / 콜라겐(보습, 탄력) / 히아루론산(보습, 수분공급)
사용법 :
세안 후 피부에 가볍게 펴바르고 톡톡 두드려 흡수되도록 한다음, 기초화장을 시작합니다.
Product Features (skin whitening + anti wrinkle + supply moist + enhance skin elasticity)
Hydrovital Activator is the first moist supplement stage with dynamic moisture-energy solution for preparing and boosting skin condition before skin care.  It will response to the skin temperature of 36 degree, so that it will seep into the skin naturally without having to rub as nano particules in cosmetics will help ingredients to absorb quickly.
Key Materials
Adenosine, EGF, arbutin, collagen, aloe vera, witch hazel extract, beta glucan, cover leaf / root / stem extract, green tea extract, Propolis extract, Chinese magnolia extract, KEVIN extract one hundred kinds, whitewall bark extract, royal jelly extract.
Adenovirus acid (wrinkles) / EGF (Play) / Arbutin (whitening improvement) / collagen (moisturizing. Elastic) / hyaluronic acid (moisturizing. Water supply)
How to Use :
After cleansing, spread lightly all over the skin with soft massage or petting.  Follow with daily skin care steps.
Именно такими мыслями руководствовались главные герои игрового автомата бананы, которые внезапно решили спуститься с прилавка и отправиться на заслуженный отдых. Федеральная служба государственной статистики не предоставляет сведения о бухгалтерской отчетности ООО "Гефест". К примеру, за регистрацию начислили 100$ и вейджер x30 источник. Да, администрация регулярно создает зеркала, но и их рано или поздно блокируют.